Visitors have an opportunity to monitor the nesting activities of our trio of Eagles, Hope and Valor I and Valor II.
Notice:
Video feeds come from our streaming video server.
Our server will only handle a limited number of simultaneous users.
If you are unable to connect, wait a few minutes and try again.
Please be considerate of other users and don't leave the feed running on your desktop unattended.
If you don't get a box to put the username and password in, please check your popups.
After clicking on button below it will ask you for the following information. You only need to do this one time.
Username: guest        Password: guest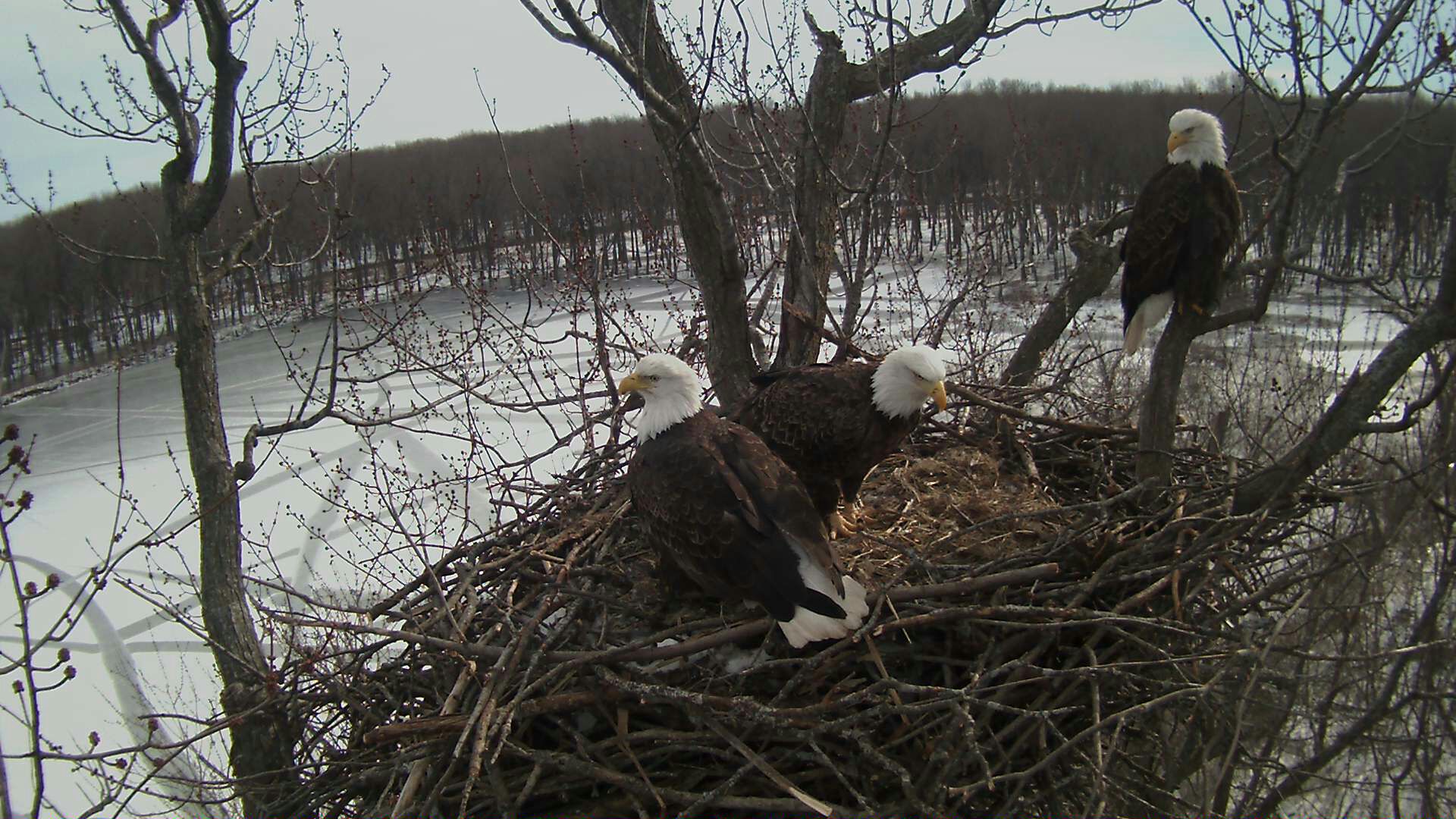 2016 History
Camera restored December 11, 2015.
The trio have been seen building on the nest, which is located closer to the road. Tree that was used in 2015 in no longer in existence.
The trio of one female and two males have been working on building up the nest through out November and December.  A pair of great horned owls have been there throughout the evening and possible looking to take over the nest. Great Horned Owls were seen pair bonding and copulating on Jan 3rd. Question – Who's nest will it be?  Eagles or Owls?
1/25/2016 – Owls haven't been seen for a few days.  This trio is an early nester, we hope to be seeing eggs either the end of January or early February.
2/1/2016  first egg was laid at 4:00pm
2/4/2016 second egg was laid.
History
2004 – The nest and eggs were destroyed by high winds.
2005 – The nest and eggs were destroyed by high winds.
2006 – One mate died after flying into an electrical power line. The other mate abandoned the nest and eggs.
2007 – Two young fledged.
2008 – Three young fledged.
2009 – One chick fledged, but flew into an electrical power line and died.
2010 – Three chicks fledged.
2011 – The nest was relocated and webcam installed. Wooden supports were added to the old nest for stability.
2011 – Eggs were laid, but parents abandoned nest. The tree collapsed in June, due to wind.
2012 – Nest was rebuilt in old location, near Lock and Dam 13. Two eggs were laid and eventually hatched. Behavior of male (Valor) indicated that he was young and didn't know exactly what to do. He had limited interest in incubation and feeding. Both eggs hatched, but each eaglet at 3 days old perished.
2013 – New nest location. Three adults were around nest. Behavior indicated that Valor I was replaced with Valor II. The pair successfully raised 2 eaglets.
Working on moving camera to new location. We need to raise some money to purchase electrical wire.
Camera was placed in mid November, 2013 at nest location.  However, there are several new nests being built. We are waiting to see where they settle before proceeding with camera setup.
2014 – unable to see nest due to vegetation
2015 – 3 young fledged